Cindy Cannon
There is so much love that surrounds the memory of Cindy Cannon.  That was evident when more than 40 family and friends showed up at our recent fundraiser to honor and remember her. She is often described as the kindest, most loving person, you could ever know. Cindy was diagnosed with stage IV Non-small cell lung cancer (NSCLC) in late April 2014, but the journey to her eventual diagnosis began much earlier. Because there are often little or no early symptoms of lung cancer, pain is often first felt in another part of the body after the cancer has already spread.
In Cindy's c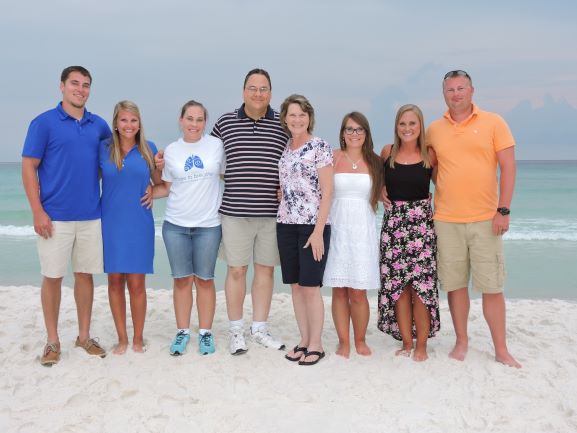 ase, persistent hip pain in the months leading up to her diagnosis were misdiagnosed as bursitis and treated with anti-inflammatory and pain medication. When continued pain and additional complications led to x-rays and scans of her hip, the images captured tumors on the lower part of her spine.  Because Cindy never smoked, no one ever imaged she could have lung cancer. It was not until after her surgery when biopsies came back positive for NSCLC that her family faced the shock and disbelief that comes from this diagnosis in someone so young who has never smoked.
Further testing revealed Cindy tested positive for the ALK mutation which meant she was eligible for targeted drug therapy that was being used to treat her type of mutation.  In 2014, when Cindy was first diagnosed the ALK Variant was still relatively rare and the FDA had fast-track approved 2 of the 3 drugs Cindy would be prescribed within a 12 month period prior to her receiving them. After several months of taking the targeted drug Xalkori and later Zykadia, each eventually stopped working and she required a second surgery for further growth of the tumors on her spine. She was starting her 3rd ta
rgeted therapy drug, Alecensa, when complications due to blood clots and difficulty breathing sent Cindy to the ER on October 14th where she passed away in the hospital weeks later on November 2, 2016.
It has been a difficult three years for Cindy Cannon's family and friends.  They cherish all the wonderful memories with such a loving woman, wife, mother, grandmother, and friend, but miss her now as much as ever.  As they celebrate all the new, exciting happenings and milestones in their lives, they think about how much they wish she were there to celebrate as well.  How she lived her life is evident through the legacy she left behind in her four daughters and two granddaughters.
Her family and friends can't help but wonder what could have been had there been more opportunities for Cindy to discover she had lung cancer at an earlier stage or had research been as far along with ALK mutation drug therapy as it is today.  Her loving husband, Brad, hopes and prays for a future filled with continued advances in lung cancer research that lead to safe early detection testing options for never smokers that will someday protect his daughters and granddaughters from this disease.
We must not only honor all those survivors who are currently battling lung cancer, but also all the brave individuals who blazed the trail in years past. They courageously tried treatments, surgeries, and medicine that have provided information to physicians and researchers which has ultimately led to increased survival of the disease for all of us.