My Story
In December 2015, I was only 51 when a spot was discovered on the lower lobe of my right lung. I have never used tobacco products, was a very healthy eater and regular exerciser. The nodule was found initially on a routine x-ray by my Primary Care Physician. A CT scan, a PET scan, and numerous follow-up CT scans over a period of 18 months showed some growth, but the reason for the growth was still inconclusive. Lung cancer seemed out of the realm of possibility due to my health history.
When the nodule reached the size of 2.4 cm a biopsy was scheduled to determine if the spot was cancerous. Initially, much to my relief, the results came back showing no signs of cancer. We would later learn that biopsies do not always rule out cancer. After treating the growth in my lung over several months for a possible fungus with no success, I was advised to have it removed without delay and surgery was immediately scheduled within weeks.
The firm advice to proceed with surgery most likely is the key factor in catching it before it had spread. No one could fathom that it would be cancer. A wedge resection surgery was scheduled in December 2017 to remove the unidentified growth. However, during surgery, pathology revealed cancer.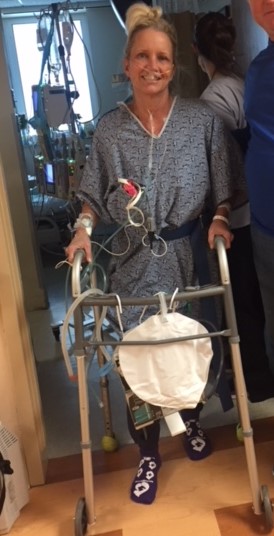 A thoracotomy was performed immediately to remove two lobes of my right lung to ensure all of the cancer was gone. The final pathology report indicated two types of cancer, Adenocarcinoma and Squamous cell carcinoma. This rare form takes on a name of its own, Adenosquamous Carcinoma. According to the American Journal of Clinical Pathology, this type of cancer exists in 0.4% to 4% of cases. My cancer, although very rare, had not spread to the lymph nodes and was stage 1. My survival prognosis was considered to be very good. Unfortunately, only 16% of people will be diagnosed in the earliest stages like me, when the disease is most treatable.
Unfortunately, after a year and a half clean scans post surgery, a few new spots began to appear in my left lung. We continued to follow the growth of these nodules until one in the lower portion of the lung had grown enough (8 mm) to warrant removal for further testing.  In May 2020 a wedge resection was scheduled to examine the growth. It too was cancer. Molecular testing of the tissue revealed I have a genetic mutation called EGFR exon 19 deletion that is driving the cancer in my lungs. I am now on a targeted therapy drug called Osemertinib to intercept the work of the mutation and help prevent future recurrences. I will be on this medicine until it stops working or until there is a better option. Our hope is the cancer does not ever return or spread outside of my lungs. I am very grateful for my health at this time and for the hope research and medicine provide lung cancer survivors, but there is still so much work to be done to increase survival statistics of this number one cancer killer.
We would like to thank these organizations who have partnered with us or supported us in our efforts to improve the survival statistics of lung cancer